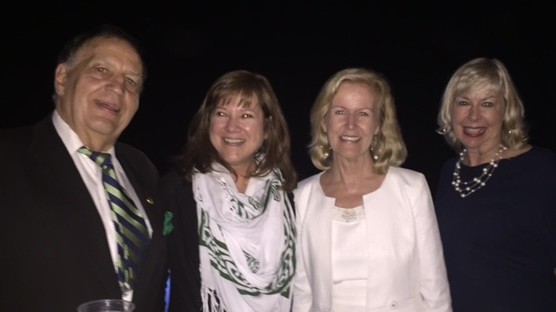 ​
by Mary McFarland
Minnesota can count on one hand the number of Irish diplomatic dignitaries who have visited here in recent history.
~Irish Ambassador Dermot Gallagher dropped by when Taoiseach Albert Reynolds visited in summer of 1994.
~Ambassador Sean OhUiginn was a guest in 1998 and attended an event at the Town & County Club celebrating French and Irish links on the occassion of the bicentennial of the Rising of 1798. The gathering, on a local level also marked the retirement of Eoin McKiernan from the Irish American Cultural Institute and as the head of Irish Studies at the University of St. Thomas.
We can now add Irish Ambassador Anne Anderson to the list. During a whirlwind visit, in late May. Ambassador Anderson charmed Minnesota's Irish organization leaders, including the board of  Irish Network-Minnesota during an early evening event at the beautifully turned out Celtic Junction with Natalie and Cormac O'Se serving as the glamorous hosts.
Anderson visited the Minnesota History Center, where she, Senator Klobuchar and Mayor Coleman viewed a collection of Irish-American artifacts curated by Patrick Coleman the senior curator for the History Center,
The ambassador presented an inspiring blueprint for how America and Ireland compliment each other and can move forward together at the Minnesota International Center Luncheon held at the IDS Center. She also attended the Guthrie's opening night of Juno & the Paycock where she dined with outgoing director Joe Dowling.
These are only the highlights as Anderson had numerous other ambassadorial functions, such as meeting with Medtronics senior staff, which recently relocated their company headquarter to Ireland. A dinner with local businesswomen and interviews with Star Tribune, the Irish Gazette and other local media. The Ambassador's time managment skills were impressive.
Ambassador Anderson comes to her role as Ireland's Ambassador to the US with a virtual boatload of experience in the diplomatic services. She has served as Ireland's Ambassador since 2013 and previously served as Ireland's Ambassador to the United Nations, the European Union, France and Monaco.
Personally I had the pleasure of meeting Ambassador Anderson in November of 2013 when she hosted Irish Network USA at the Irish Embassy in Washington D.C. The Ambassaodr spent time with each represented Irish Network and was knowledgable about Irish influences in all parts of the US.
Anderson articulated the strategic successes that Ireland and America have forged together. She also stressed that Ireland's ability to act as a translator for the US to other members of the European Union defines the two countries unique relationship.
We look forward to Ambassador Anderson's next visit and her continued stellar representation of Irish women on the world stage.